It's Release Day for Her Bareback Cowboys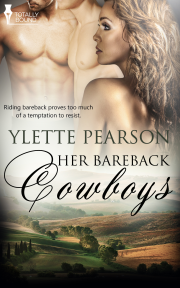 When you throw together two self-assured cowboys and one sex-starved photographer, things are bound to heat up.
Her Bareback Cowboys
releases today from Totally Bound Publishers and I thought I'd share a little about the book.
From the Back Cover:
When the Groundhog Saddle Company awards twenty-six-year-old freelance photographer and divorcee, Adrian Barlow the coveted assignment of advertising their saddles and other leather products, she jumps at the opportunity. Her bank account is in dire need of replenishing and her reputation as a photographer hangs by a shred over a bottomless abyss. Even when her employer informs her that her duties include playing babysitter for the two cowboys they hired for the job, she doesn't complain. She needs the money too much to be fussy.
Texan rodeo stars Wade Randall and Maverick Green agree to play fashion model for a couple of months because Wade needs the money to buy his own ranch in Texas and Maverick must rest his injured shoulder. However, nothing prepared them for the sight of Adrian when she collects them at the OR Tambo International Airport in South Africa.

The attraction between the three is instantaneous and the sexual tension so thick it clogs up the interior of Adrian's four-wheel-drive Toyota Land Cruiser, but none of them are in the market for a serious relationship. Adrian's past sexual mistakes caused her financial misery and she has no desire for a repeat performance while the men's plans for life exclude permanent partners for a long time to come.

Isolated on a working farm in the Highveld of the Mpumalanga Province, Adrian is unable to resist the sexual pleasures the two cowboys promise. With the firm understanding that none of them wants a serious relationship, they embark on a journey of sexual discovery that melts the cold winter days.
However, when old acquaintances from Adrian's past arrive, she learns that over-indulgence always comes at a price…
Reader advisory: This book contains scenes of anal play, anal sex and double penetration.
Exclusive Excerpt - 18+ only
Bathed and dressed in casual slacks and a bright pink sweater, Adrian joined the men in the lounge. With no lights on, the fire illuminated the room, casting eerie shadows against the walls. Before she could pour herself another drink, Marie announced that dinner was ready and they moved to the dining room. The table was set with three plates next to one another. Wade pulled out the chair in the middle and Adrian sat, trying to ignore the zing of his touch on her shoulder.
Although conversation flowed naturally, by the time they finished dinner, both men were struggling to hide the fatigue plaguing their bodies. She pushed her empty plate forward. "I don't know about you guys, but I'm ready for bed."
Seeing the twinkle in Maverick's eyes, Adrian stood and held up her hand. "Not tonight. I need my beauty sleep."
"Darn, and I thought we could cuddle." Maverick closed in on her and she sidestepped him.
She chuckled. "I doubt you have a cuddle on your mind, and I'm tired."
Maverick exaggerated a pout. Adrian fisted her hand in Wade's shirt and pecked him on the cheek.
"Sleep tight, cowboy. Tomorrow's going to be another long day."
He hugged her, but his arms didn't linger. Maverick stood with his hands stuck on his hips and his head cocked to the side. Mischief danced in his blue eyes as Adrian stepped closer to him. When she stood on tiptoes to kiss him on his cheek, he turned his head and their lips met.
Gathering her in his arms, he buried his fingers in her hair, holding her head in place. She snaked her arms over his shoulders and he deepened the kiss, exploring her mouth like a treasure hunter on the trail of innumerable riches.
Adrian clung to him as the strength seeped out of her limbs and she trembled with weakness. He dropped his hands to her buttocks and lifted her to him. She hooked her legs over his hips without breaking the kiss.
Maverick strode to the wall, pressed her back to it and captured her hands in one of his big ones. He tilted her head to the side and slid his lips to her chin, exploring the sensitive flesh below her ear.
She gasped for breath as he captured her earlobe in his mouth and suckled. Her limbs liquefied and heat pooled in her pussy. How could she fault the men for the bit of heaven their arms promised her?
"I want to taste every inch of your skin," Maverick whispered close to her ear.
Gooseflesh erupted on her arms as the effect of his words flashed through her. She tightened her legs and edged her pussy closer to the hard ridge forming in his trousers. He hissed as she pulled him closer, further fueling the fire dancing between them.
"Hell, you'd better apply the brakes right now. Marie's still in the kitchen." Wade leaned against the wall next to Adrian. "And I'm not sure I'll be worth two cents if we don't get to bed soon."
Damn, she'd forgotten about Marie—again. All she could think about was finding a bed where she could ride the cowboys to her heart's content. Adrian tugged her hands from Maverick's grip. She clung to his shoulders as she captured his mouth for a last searing kiss before she struggled out of his grasp, lowering her legs to the floor.
"Wade's right. Besides, our first priority must be the photos. It wouldn't do if the lens depicted two tired and worn out cowboys." She palmed Wade's face. "Goodnight, boys."
Maverick's chuckle followed her along the passage and when she closed the door behind her, their footsteps thudded to their rooms. Adrian waited for her heartbeat to slow. Playing with fire had never felt so good.
Also available from Amazon, All Romance E-books and other major online retailers.